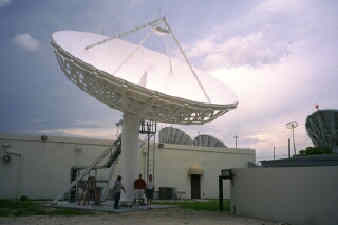 PanAmSat Homestead, Florida Ku-band uplink site using Viasat 11m earth station. Waveguide run uses Tallguide TG115.

Ocala, Florida, October 1/Internet --- Antennas for Communications (AFC) announced today that it has completed its contract with Viasat for the manufacture of two Ku-band Tallguide TG115 ultra low transmission loss waveguide runs for the PanAmSat 11m uplink earth station site, Homestead, Florida. The Tallguide TG115 is used to connect the transmitter facility to a Viasat 11m antenna. Due to the antenna location and the complexity of the physical layout, the Tallguide TG115 run was in excess of 120 feet.

"Where low transmission loss or high power are important, Tallguide TG115 replaces WR75 with substantial power savings " said Dr. Ronald S. Posner, AFC's CEO. "For the PanAmSat Homestead site, more than 5 dB output power was recovered. Tallguide leads to significant system improvements and cost savings from higher radiated antenna power with lower power transmitters to improved HPA linearity for complex modulation formats."

Antennas for Communications manufactures satellite and terrestrial antennas, radomes, microwave and waveguide components and Tallguide ®, an ultra low transmission loss waveguide. The company serves the satellite, broadcast, communications, cable, radar, weather and government industry worldwide.

/Contact. Dr. Ron S. Posner of Antennas for Communications, (352) 687-4121.




For more information on AFC's Tallguide product line, please refer to AFC's Tallguide Home Page.
A complete Internet WWW AFC site index may be found in Antennas for Communications (AFC) Home Page Document Summary List. Additional press announcements may be found in the press release section of the site index.

 Return to AFC Profile  Return to Tallguide Home Page   Return to AFC Home Page


Antennas for Communications
2499 SW 60th Ave, Ocala, FL 34474
Tel (352) 687-4121 Fax (352) 687-1203 Email sales@afcsat.com

Tallguide is a Registered Trademark of Antennas for Communications
Copyright © 2001 Antennas for Communications