Ocala, Florida, February 01/Internet --- Antennas for Communications (AFC) announced today that it has completed its contract with Applications Technology, Inc. of San Diego California for the manufacture of X-band Tallguide TG134 ultra low transmission loss waveguide for the maritime surveillance radar in Hawaii. The Tallguide T134 is used to connect the AN/APS-134 radar microwave electronics to a modified high gain X-band antenna in support of a US Navy subcontract with SPAWARS. Mounted within AFC's 61-ft. diameter radome, purchased by Lockheed Martin for their FPS-117 radar contract with the US Air Force, the AN/APS-134 radar antenna is colocated within the radome with the FPS-117 radar. The Tallguide TG134 run follows a path from the electronics bay to the radome base foundation floor level.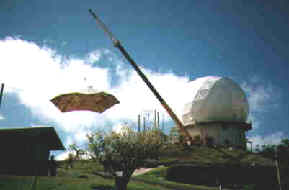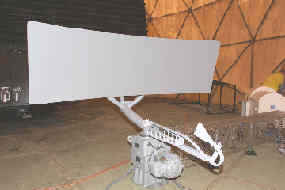 Setup AN/APS-134 X-band radar using Tallguide TG134 with AFC's 61-ft. diameter radome and Lockheed Martin FPS-117 radar in background. Picture on left is AFC 61-ft. radome under construction.
The AN/APS-134 multimode search radar is manufactured by Raytheon (Texas Instruments) and is used as well on such surveillance aircraft as the P-3B, EP-3E, HC-130H, CP-140A (Canada; Canadian version called AN/APS-507), Atlantique (Germany/France), P-3K (New Zealand), Fokker 50 Mk 2 (Singapore), CN-235MPA (Brunei), and P-3C (South Korea).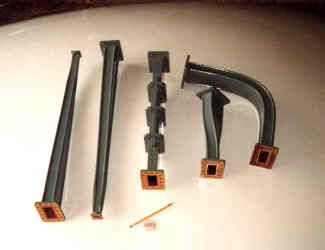 Tallguide TG134 components.

Typical of maritime radar, sea surveillance demands ever-increasing performances from sensors and mission systems. They must be capable of detecting a very wide range of targets including submarines, inflatable boats and supertankers. To help accomplish these tasks, the Tallguide TG134 ultra low transmission loss waveguide significantly increases signal-to-noise ratio and detection range.

In order to detect targets of all sizes and in all weather conditions (in particular at all sea states), these maritime surveillance radar systems also use pulse compression, frequency agility and integration in turn, to reduce signal clutter. Digital processing then enables the classification of these targets, automatic multitarget tracking and radar image plotting allowing, by comparison with a databank, target type identification.

"In radar applications where double-path transmission loss improvements have twice the impact, Tallguide TG134 replaces WR90 waveguide with substantial radar performance increases" said Dr. Ronald S. Posner, AFC's CEO. "For the US Navy radar, approximately 2 dB double-path signal power was recovered by substituting Tallguide TG134 for 27-ft. (8.3m) WR90 waveguide."

Antennas for Communications manufactures satellite and terrestrial antennas, radomes, microwave and waveguide components and Tallguide ®, an ultra low transmission loss waveguide. The company serves the satellite, broadcast, communications, cable, radar, weather and government industry worldwide.

/Contact. Dr. Ron S. Posner of Antennas for Communications, (352) 687-4121.




For more information on AFC's Tallguide product line, please refer to AFC's Tallguide Home Page.
A complete Internet WWW AFC site index may be found in Antennas for Communications (AFC) Home Page Document Summary List. Additional press announcements may be found in the press release section of the site index.

 Return to AFC Profile  Return to Tallguide Home Page   Return to AFC Home Page


Antennas for Communications
2499 SW 60th Ave, Ocala, FL 34474
Tel (352) 687-4121 Fax (352) 687-1203 Email sales@afcsat.com

Tallguide is a Registered Trademark of Antennas for Communications
Copyright © 2002 Antennas for Communications